From Paralyzer to Eliminator mode,
fully mechanized transformation.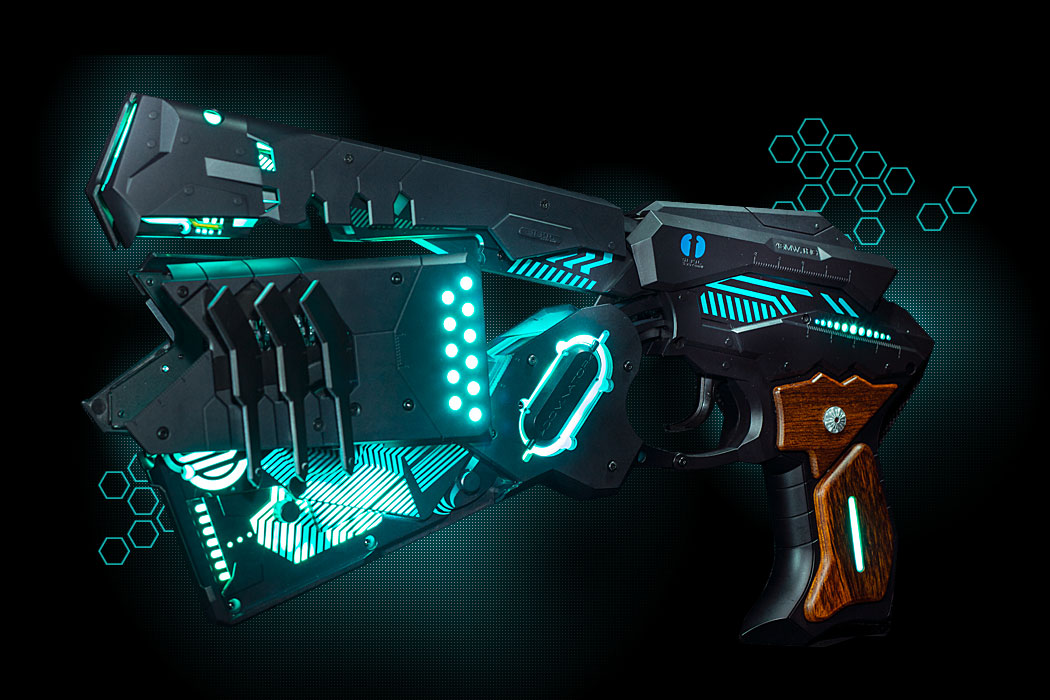 Automatic Transformation Between Paralyzer and Eliminator Mode
This product has been created under the supervision of Production I.G director Naoyoshi Shiotani and Nitroplus designer Makoto Ishiwata. DOMINATOR features characteristics identical to the devices seen in PSYCHO-PASS such as automatic transformation, voiceover and sound effects, authentic LED lighting, touch sensor activation, Crime Coefficient analysis and more.
DOMINATOR features over 100 different voice samples from Noriko Hidaka who provides the Dominator voiceover for PSYCHO-PASS. DOMINATOR can automatically playback voiceovers depending on the situation, such as grasping the grip, detecting an authorized person and more. DOMINATOR has a built in speaker for voiceover and sound effects and can also playback sound via a connected smartphone's speakers.

DOMINATOR has a touch sensor built into the left and right hand sides of grip, enabling detection when held in either hand. Just like in PSYCHO-PASS you can register your DOMINATOR to activate when holding the grip or lock out unauthorised users. DOMINATOR's body has a total of 217 full color, high brightness LEDs, the LEDs have authentic lighting patterns to replicate Paralyzer, Eliminator or charging modes.

When DOMINATOR is aimed at a target, it will automatically analyze and readout the target's Crime Coefficient score. Connecting a smartphone will allow DOMINATOR to capture and stream an image from its built-in camera to the companion smartphone app and overlay Crime Coefficient data on the target image.
Online Manual
SPECIAL EDITION
The DOMINATOR SPECIAL EDITION features a grip made from natural rosewood with a polished finish. The Public Safety Bureau mark above the grip is crafted from aluminium and decorated with a synthetic ruby. Both materials add an extra air of authenticity to the device. The Special Edition will be available for JPY 89,800 (excluding tax) at the Cerevo Official Store on the same day as the Normal Edition goes on sale.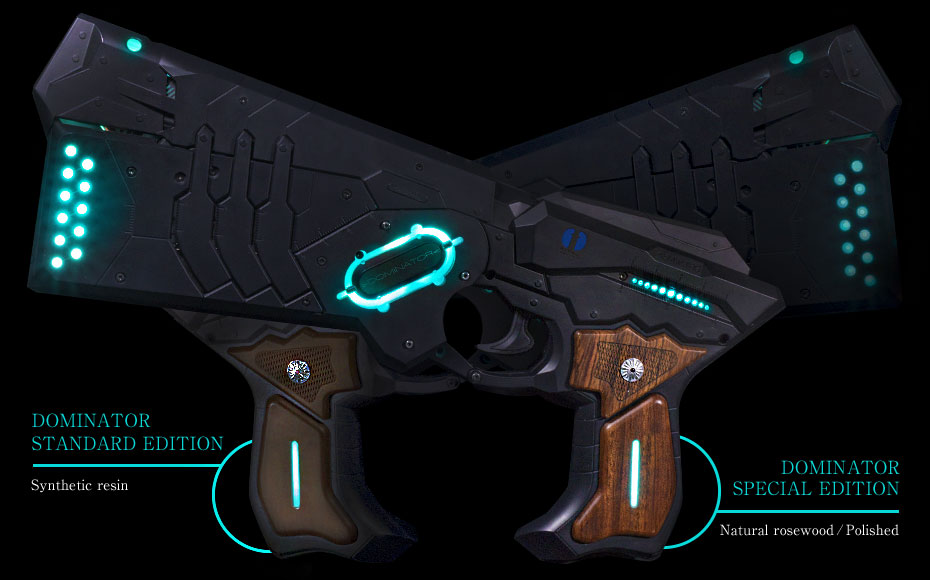 Made using a high grade plastic material, the DOMINATOR Official Protector Case meets water resistant IP60 standards and is shock resistant, allowing you to safely transport and store DOMINATOR.
Buy Now

Display your DOMINATOR and watch it transform automatically with the DOMINATOR Official Display Stand, on the stand DOMINATOR will light up and transform from Paralyzer and Eliminator mode.
Buy Now